Last weekend Dolphin Discovery received Joel Dreessen, Miles Burris, Joey Larocque, Caleb Hanie, Nick Roach and Vance McDonald, NFL players who were visiting Cancun and the Riviera Maya.
The players arrived at our location in Puerto Aventuras very excited about this new experience, accompanied by their wives and families, they really enjoyed their vacation.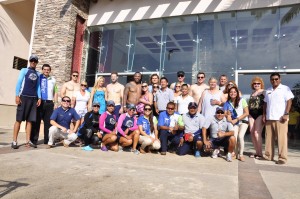 It was time to enter the water, and Chaac and Star the dolphins that accompanied them that day, were happy to meet them. Everyone could kiss them, hug them and dance with them. They were especially excited with the Foot Push and Belly Ride.
They were happy, among giggles and excitement they shared beautiful moments with these wonderful animals. Finally, Chaac showed them how important it was to keep our oceans clean and care for nature, when he picked up a bottle of water and brought it to the trash can. For all, was very fun to watch.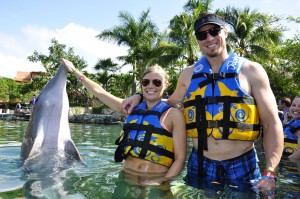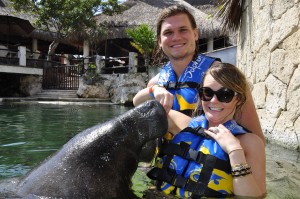 Upon completion of the program with dolphins, they all got out of the water to go visit some amazing creatures, Manatees! For the players and their families, it was really cool to know and learn more about them. They were with the manatees of Puerto Aventuras and got to meet their babies, caressed, embraced and fed them. It was a different and beautiful experience.
Finally, when they finished the program with the manatees, they left the water to eat at the buffet restaurant. The players were very pleased and happy to see all the pictures that were on that day. So many memories that are now new treasures for them and their families.