Yes! Our favorite pair of manatees welcomes their first breeding at Dolphin Discovery.
On the night of March 20, Dorothy became mother of a male manatee in Puerto Aventuras. Although we do not know the name of the new member of our family Dolphin Discovery, we know it is in perfect condition and is accompanied by other manatees babies, Conchis and Clau.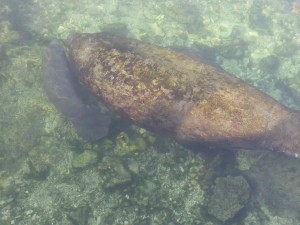 The son of Dorothy and Paul is fed with breast milk every 30 minutes, so soon he will gain weight and may be the size of their parents. It is important to know that the gestation of manatees exceeds the year and that while mothers are in this period should eat up to 60 kilos of lettuce a day, plus a varied diet of fruits and vegetables. Yes, they are so healthy!
Let's remember the importance of this eighth born under human care manatee as it is an endangered species that requires a lot of care and love. That is why year after year, people from around the world come to meet manatees to learn with them the risks that day a day they have to live, such as the mismanagement of natural water, trash in their habitat or accidents vessels.
15 years ago the government asked our help to rehabilitate 3 manatees that were in Tabasco. Which they improved thanks to our program of veterinary medicine and care that our marine mammal specialists gave them.
Dorothy has just given us the best gift of all. Visit us and be part of the miracle, meet this healthy baby manatee at Puerto Aventuras.