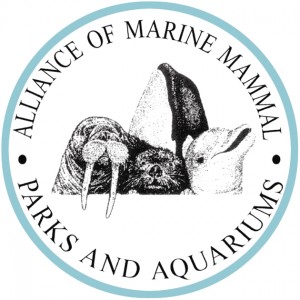 Dolphin Discovery Grand Cayman is celebrating this week after receiving accreditation by AMMPA (Alliance of Marine Mammal Parks and Aquariums).  The hard work, dedication and devotion of every member of the staff is to be commended, a hearty congratulations to the whole team for their passion in making Dolphin Discovery the number one dolphin experience in the world!
"The Alliance of Marine Mammal Parks and Aquariums is an international association representing marine life parks, aquariums, zoos, research facilities, and professional organizations dedicated to the highest standards of care for marine mammals and to their conservation in the wild through public education, scientific study, and wildlife presentations……..The Alliance administers a stringent accreditation process for its members. Accredited members must uphold Alliance Standards and Guidelines to optimize the psychological and physical health of, and environmental conditions for, individual marine mammals under their care, and to maximize the educational and scientific value of their collections as a whole. – AMMPA
Dolphin Discovery is dedicated to providing the highest standards of care to all our marine animals in addition to maintaining a clean, safe and welcoming environment for our guests.  Our interactive dolphin programs are designed to be educational as well as fun, sharing our knowledge of these amazing marine animals and discussing the importance of conservation and the environment.  Every member of the Dolphin Discovery team strives to be the best and to get better everyday, from our reservations department to the trainers to the veterinarians to the maintenance crew, ensuring the health and well being of the animals in our care and the enjoyment of our guests.  The AMMPA accreditation acknowledges the efforts of everyone at Dolphin Discovery, it is an honor to be recognized by this esteemed organization.  Congrats team!