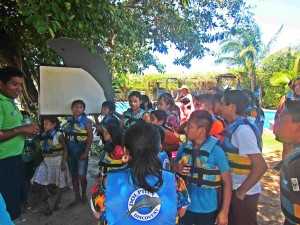 Last thursday we had the pleasure of receiving some very special guests: children from the mayan community Campamento Hidalgo. They woke up very early to take the bus from their home at the limits of Quintana Roo and Yucatan, that would take them to Cancun to take the ferry to their final destination: Dolphin Discovery Isla Mujeres.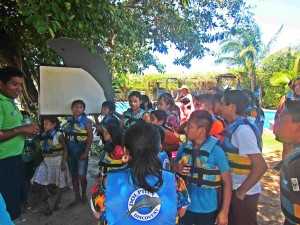 The 10 girls and 10 boys with their guardians arrived filled with excitement, because due to the difficulties that imply moving from their community they have never seen the sea yet they quickly lose the fear and got on to the ferry that would take them to their dolphin encounter.
After a tour around the park and small talk given by Marco Moen where the kids learned about their environment, how to take care of nature and the ways us at Dolphin Discovery take care fo the environment as a socially responsible company, they were taken to their so anticipated activity: meeting America and Daniela the dolphins with whom they would have their unforgettable encounter.
The look on their faces was invalubale, so many smiles and excitement of getting in the water with the dolphins, is just unimaginable the combination of so many feelings: seeing the sea and going in to the fresh water, seeing a dolphin and being able to touch her, all at the same time!
Some kids were feeling a little overwhelmed, but soon felt confident thanks to the kind words and demostrations from our marine mammal specialists, who show them all the fun beahaviors the dolphins wanted to share with them.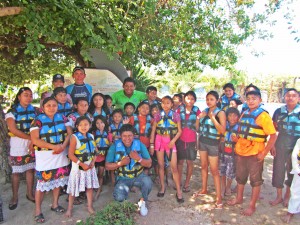 After 50 minutes of kisses, hugs, and waves to the dolphins the kids said their goodbyes filled with joy and information about the wonderful dolphins.
They took the ferry back to Cancun, some of them a little tired after a long days of emotions but with a smile on their faces after having the experience of a lifetime.