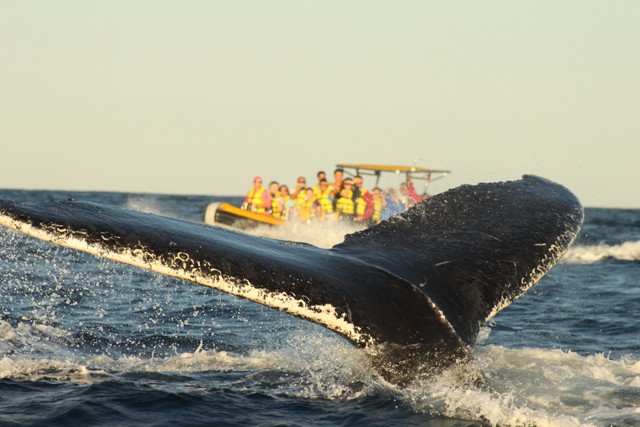 Weighing up to 73,000 pounds and measuring up to 50 feet, the gray whale in the Pacific Ocean is a spectacle to see. Every fall, the gray whale makes the longest migration of any mammal—a 6,000 mile journey from the cold waters of Alaska and Siberia to the warm ocean of Baja California. The whales leave their home and arrive in late December to escape the chilly winter and take refuge to give birth to their young. They make the Pacific Ocean their home from January to March, offering us the once-in-a-lifetime opportunity to see them up close in their habitat. Watching these awe-inspiring creatures is a sight not to be missed.
During the tour, you might be a spectator to a number of behaviors. While you're on the boat, keep an eye out for spouting: the visible exhaling of air by the whale. This is the first indication of the proximity of whales. Another whale behavior is breaching: when the whale leaps out of the water and falls back with a splash. Whales are constantly moving and can remain underwater from two to five minutes, meaning you have to keep your eyes open and anticipate their direction so you will be ready for the next breach and sprout. Your guides will also be able to tell you where to look as they have become experts in reading whale behavior. While on the tour, you might also see the whales showing their flukes, and hear them sounding their whale song. The most exciting and thrilling behavior is spy-hopping: the whale pushes itself up to the surface of the water until it can see his surroundings. The curious creature comes face-to-face with its observers as you look at it.
Although the gray whale is the most popular species, Los Cabos whale watching tours are rich because there might be the chance of seeing an even greater variety of animals. The tour is also available in Vallarta.
Dolphin Discovery takes you on this exciting whale watching tour in Los Cabos and Vallarta on a small boat, zodiac, giving us the ability to move in closer and faster to get an eye-to-eye close up with these stunning and beautiful animals.