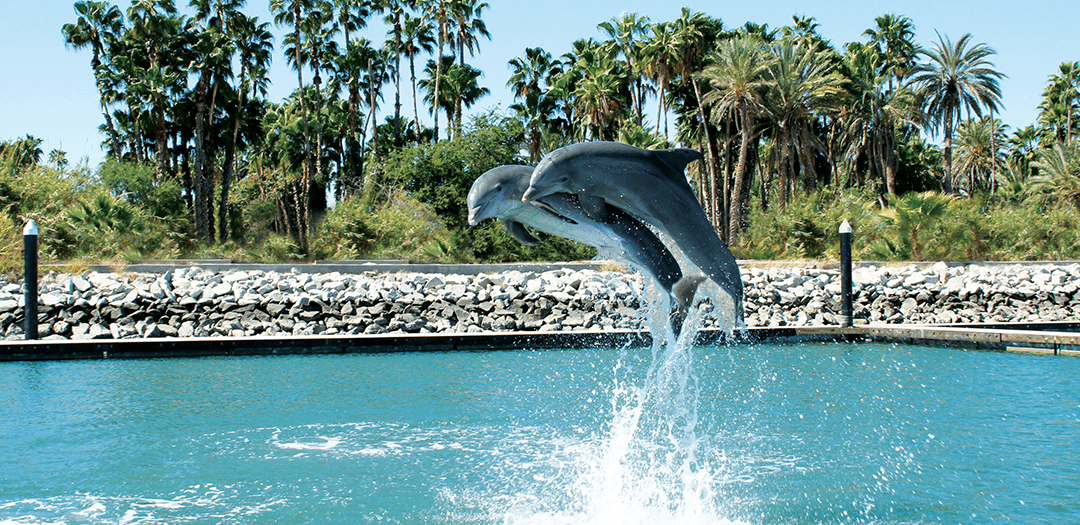 A perfect weather, filled with beauty and biodiversity, this is Cabo San Lucas and San Jose del Cabo. Cities full of activities for the whole family, including the best Dolphin Discovery experience in the beautiful Marina Puerto Los Cabos.
In Los Cabos, there's so many things to do, such as diving, fishing, surfing and kayaking. Let's not forget there is also more than 7,000 square meters of ocean space to swim with dolphins in their natural habitat and incredible whale watching.
Located just 25 minutes away from Cabo San Lucas at Baja California Sur, Dolphin Discovery now offers All inclusive programs, where you'll find a great variety of activities, such as swimming with dolphins, whale watching, snorkeling, camel rides and more!
That's right, in Dolphin Discovery Los Cabos, we invite you to explore and walk on our stunning beaches, live a unique experience with our marine mammals, ride a camel in our Camel Trek program or navigate the waters with our Ocean Riders tour. All this, accompanied with delicious food and refreshing drinks in our national open bar.
Enjoy the botanical garden in our park named Wirikuta, where there are more than 1,500 different types of cactus from the largest deserts in the world and let yourself be amazed with the 3 beautiful pyramids that you will find just 25 minutes away from Cabo San Lucas.
Los Cabos: a magical place full of wonders, surprises and never ending fun.