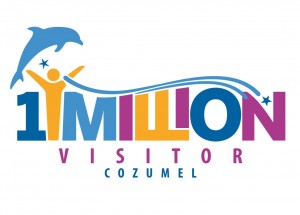 Dolphin Discovery Cozumel celebrated its 15th anniversary last Friday, and as part of the celebration, it was the location who hosted the Adams family to be awarded with a certificate of 1 million dolphin swims for two people, which they can use at any of our national and International locations.
The Adams family was greeted with cocktails and mariachis while they were getting off from the Allure of the Seas cruise in Cozumel, so they were informed that they were the visitor number 1 million in Dolphin Discovery.
With a huge smile of joy and surprise, they were transported in a limousine to our dolphinarium at Cozumel, where they were welcomed with mariachis and our friendly staff.
Subsequently, they gave them their 1 million dolphin swim certificate with a small ceremony by some authorities from our major corporate and some important authorities from Cozumel Island.
Then we enjoyed our traditional cupcake's cake, finishing the cake, the Adams family made the Royal Swim program, enjoying the "upgrade" from Swim Adeventure to Royal Swim and then they made the manatee encounter.
The Adams family could not hide their happiness for being the lucky winners of this award, besides the couple was celebrating his 15th anniversary together with their children on that trip.
Definitely this was the best gift they could have. Congratulations!