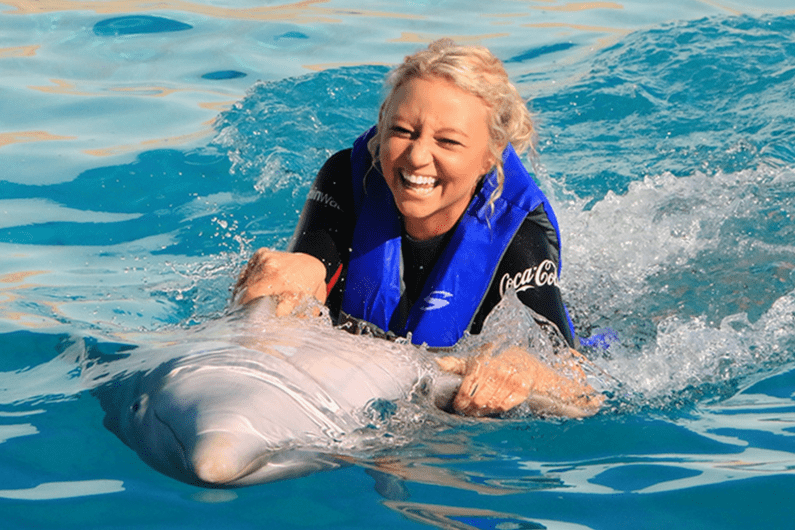 The Florida state is located at the southeastern region of the United States right in the Mexican Gulf. It is one of the top destinations because of the touristic attractions that are offered, the beautiful beaches and of course the variety of marine animals that live in that area such as the bottlenose dolphins.

One of the main attractions in Florida are the theme parks, there are many different type of parks but one of the most populars are the marine ones like Gulf World Marine Park, where you can not only see the animals in their habitats, you can also create a bond of love and respect through the interaction experience such as swimming with dolphins.
So, if you are wondering where to swim with dolphins in Florida and what other interactions can you  experience, this article would be very useful for you!
Gulf World is the best place to see dolphins in Florida, located in Panama City Beach just in the Northwest Florida´s Emerald coast (must known because the fishing and the water sports), perfect location and weather to enjoy variety of marine species and learn more about them with your friends and family.
This amazing marine park offers wide interactive programs with different species such as dolphins, sea lions, stingrays, sharks and other animals where you'll learn how to protect the environment in our everyday lives.

Other great thing about this park is that they also offer daily shows in different hours for all the family to enjoy like: the bottle nosed dolphins, sea lions and rough toothed dolphins, feather & friends, stingray feed, coral reef chat, shark and turtle feeding, among others.

In Gulf World Marine Park we have three different swimming with dolphins programs that goes between 30 and 45 minutes and each of this four programs include different activities with the dolphins.
Most people think that this interactions programs are very expensive, but the reality of how much is it to swim with dolphins in Florida it's really payable, if you want to check out the prices go to this link and find out ➡️ http://bit.ly/2iAn5uR
So if one of your 2017 wishes will be to swim with dolphins, you should definitely start planning your next vacation to Florida and cross that from your bucket list.