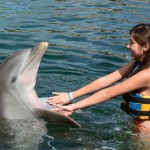 Maria José Martín Cardozo was one of the winners in the contest "Mis Quince en Dolphin Discovery".
This August 10th, our winner enjoyed her prize with her brother and friends. They did the "Royal Swim" program at Dolphin Discovery Riviera Maya, and with no doubt we can tell you that they all had a lots of fun and it was a very emotive for Maria José.
 She wrote us the following note telling us how she felt about this experience:
Thank you for this wonderful gift that Dolphin Discovery made for my XV years at
Puerto Aventuras, this is something that will remain in my memory forever.
Dolphins are very smart animals and they transmit an incredible magic,
when I was dancing the waltz with them was very cute, very unexpected, but wonderful,
this moment with my friends and my brother was amazing, we were all
very excited.
Every time I see the photos I believe that my Dad was there, thanks to all the Dolphin Discovery staff, people who chose me as a winner, somehow my dad was with me, that night I talked to him and said, "Dear papito, my love, we did it, we swam with the dolphins!" 
Congratulations to our fifteen year old winner!