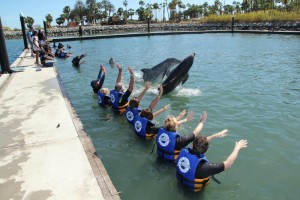 Dolphin Discovery is celebrating! Two years ago we opened our beautiful dolphinarium in Los Cabos and in that time we've welcomed guests from around the world and enjoyed becoming a part of the community in Cabo. Here's a look at how we'll be celebrating…
Dolphin Discovery and the Environment: Dolphin Planet
Join us to be a part of this effort to maintain the cleanliness of our natural areas
February 2
Hours: 7:00 to 9:00 a.m
Meeting point: Hotel Holiday Inn
Requirements: Hiking shoes and long pants. Enthusiasm and love for the environment.
Material to be provided: bags, gloves, litter picker stick and water during the event, shirts and commemorative gifts to the first to arrive.
Dolphin Discovery Culture
Story Contest
Jan 30-February 9: Local school children are invited to create stories of Ixchel and her baby dolphin
In order to raise awareness of the important bond of love between a mother dolphin and her calf, Dolphin Discovery Los Cabos and SEP invite schoolchildren in 3rd-6th grade who live in San Jose del Cabo to enter the story contest for a chance to name Ixchel's baby dolphin.
Winner Announcement: February 14
More information ixchelysubebe@dolphindiscovery.com
Week of Culture and Knowledge
February 18-February 22
Hours: 11:00 -12:00 primary school children / 18:00 to 20:00 General Audience
Location: Cultural Pavilion in Los Cabos
A week full of experts sharing their knowledge with talks, courses and training on various topics of interest to all. Discussions about tourism and film, among other interesting topics.

Dolphin Discovery and Music
Dolphin Orchestra
March 8
Hours: 5-9 pm
Location: Dolphin Discovery Los Cabos
A magical, musical tale that tells the story of dolphins Titan and Ixchel, when they met, fell in love and how the power of their love triumphs in the end. Live presentation of both dolphins, stars of the Dolphin Discovery Los Cabos locatioin.
For more information about these events please contact 2doanivloscabos@dolphindiscovery.com
Congratulations to the whole team of Dolphin Discovery Los Cabos and our heartfelt gratitude to the community for their welcome!
Check out this incredible video to see all the beauty that Dolphin Discovery Los Cabos has to offer.